Another Proud Moment for SLHTA Junior Chefs at Caribbean Junior Dueling Challenge 2017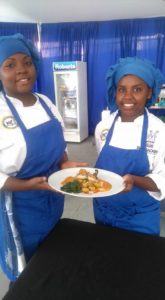 Seventeen (17) year old Megan Felicien of Trios Piton and (21) twenty-one year old Brittney Henry of Ciceron gave an outstanding representation of Saint Lucia at the Barbados Junior Chef Dueling Competition.
The two aspiring chefs formed a culinary power bomb and emerged number one for the National Dish Segment and the Mystery Basket Round. They were able to secure Gold Medals for the National Dish and Mystery Basket rounds. However,  the culinarians were awarded third place in the final round of competition.
The competition also served the purpose of enlightenment.  The two junior chefs attended seminars conducted by highly esteemed chefs in the region. The two young women are now exposed to the thrill and pressure from competition on a regional level and now understand the discipline required to become a professional chef. A part from competition aspect, Megan and Brittney also had the privilege of interacting with their regional counter-paths in a forum where they learnt about their cultures through food.
Megan Felicien and Brittney Henry were accompanied by Mr. Billy Boyle the passionate Executive Chef at Marigot Bay Resort and Marina by Capella whom also spent time grooming them for the competition and Mr. Wendel George who is the team's coordinator.
The competition took place in Barbados from the 21st August to 27th August 2017.