Karolin Troubetzkoy elected as Tourism Enhancement Fund Chair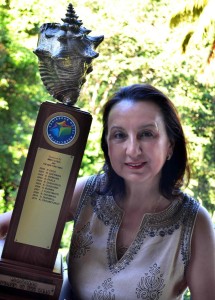 Karolin Troubetzkoy, Immediate Past President of the St Lucia Hotel & Tourism Association and President of the Caribbean Hotel & Tourism Association, has been elected as Chairperson of the Tourism Enhancement Fund (TEF) effective immediately. She is preceded by now SLHTA President, Mr Sanovnik Destang, and will serve as TEF Chair until January 2018.
Troubetzkoy served as President of the Saint Lucia Hotel and Tourism Association (SLHTA) since 2010 where she has been instrumental in the successful implementation of a hotel booking engine for the association, increased social media presence as well as the launch of a Saint Lucia Tourism Enhancement Fund. In January of this year, she spearheaded the SLHTA initiative of declaring 2016 the Year of the Environment. She also oversaw the development of a broad social media platform for the SLHTA as well as the launch of several websites.
The Tourism Enhancement Fund (TEF) is a private sector initiative established in 2013, it is designed to   allow the Tourism industry greater opportunity to play an integral role in the sustainable development of our destination and people. The TEF is financed by a small, voluntary donation from member hotel guests' of $2 USD per night, and goes towards community development and environmental projects and actions.  The TEF has spearheaded many projects over the years, including its Apprenticeship Program, the Community After School Program and the Chefs in Schools Program.
"As part of our vision for 2016, we are committed to the advancement of Human Resource Development in our young tourism workers; through our Apprenticeship Program, our training programs and the provision of professional development courses to current industry workers, our hope is to grow multi-skilled, empowered workers who can help grow the industry sustainably in a highly competitive, globalized environment".
Troubetzkoy has served as a Director of the Saint Lucia Tourist Board for several years and has been an active member of the Destination Marketing Committee for the past 20 years. Troubetzkoy is the Chairperson of CHTA's Caribbean Alliance for Sustainable Tourism (CAST) and previously served as Chairperson of the CHTA Advocacy Committee from 2012-14. She is also a Board member of the Caribbean Tourism Development Company (CTDC). Troubetzkoy has successfully spearheaded the marketing and day-to-day operations of the award-winning Anse Chastanet and Jade Mountain resorts for more than 30 years. Troubetzkoy is a past recipient of CHTA's Caribbean Hotelier of the Year Award (2012), St. Lucia Hotelier of the Year Award (2006) and Crystal Award for services to the hotel industry from the St. Lucia Hotel and Tourism Association. She holds a degree in business administration with majors in both tourism marketing and hotel and restaurant management from the University of Applied Sciences in Munich, Germany.