The reasons we must keep investing in them – Our Culinarians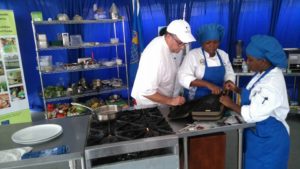 "
Watching these young aspiring chefs cook and seeing their skills unfold is fantastic and the best feeling in the world, because I know that we are helping to change the lives of not only these young chefs but the lives of their entire families and friends
" says Wendel George, Tourism Enhancement Fund Projects Coordinator.
The Tourism Enhancement Fund (TEF) exclusively supported Megan Felicien and Brittney Henry while preparing for and during their representation of Saint Lucia at the Barbados Dueling Competition held in Barbados last week. One of the pillars that the SLHTA established the TEF on is Comprehensive Youth Development. Once again, this has come to materialize through the outstanding performance of seventeen year old Megan Felicien and twenty-one year old Brittney Henry. The SLHTA and the TEF are extremely proud to have invested in these leaders of 
tomorrow
.
The work that the Saint Lucia Hotel and Tourism Association (SLHTA) is associated with is phenomenal and is being praised at a national and regional level. The SLHTA has been making strides at a secondary school level, and has made major impacts on the way students view Tourism as well as Food and Beverage and Culinary Arts in Saint Lucia.
At the rate in which Tourism Industry is moving, the Association sees this as an opportunity to groom our youth to not only become our leaders but be better equipped to lead. This industry plays a major role in the Saint Lucian Economy and by extension the livelihood of the local populous.  Therefore the Association wants to nurture talent that will ensure sustainability of our Tourism Product.
The SLHTA established the Tourism Enhancement Fund in 2013, because it envisioned Tourism playing a more vital role in society along with the much needed development of the island sites and attractions and more importantly its people. From a $2.00 US per night voluntary contribution from guests, SLHTA has been able to invest at least two Million dollars in youth development initiatives, Apprenticeship Programs and the upgrading of various tourism products among others.
To this date, SLHTA's Tourism Enhancement Fund has invested over EC$260,000 in the development of Culinary Arts in St Lucia since its establishment.
The SLHTA is confident that today's' investment in the arts will integrate well into the growth and sustainability of Saint Lucia's Tourism Industry in the coming years. We extend sincere gratitude to the member companies who are committed to this fund and continue to encourage their guests to contribute.