SLHTA Contributes Over $650,000 to Tourism Development
SLHTA Contributes Over $650,000 to Tourism Development
GROS ISLET – In addition to disbursing over EC$300,000.00 towards community based projects over the past six months, the Tourism Enhancement Fund made its biggest pay-out on Wednesday 6th August, 2014 with four organizations benefiting collectively from over EC$650,000.
These organizations include the Castries Comprehensive Secondary School, the Ministry of Social Transformation, the Saint Lucia Tourist Board and the Ministry of Agriculture.
Launched in October 2013, the Tourism Enhancement Fund has netted more than EC$1.35 million due to the coming together of several hotels. The Saint Lucia Hotel and Tourism Association (SLHTA), which manages the fund, has announced plans to aid product development, marketing and airlift across the local tourism sector.  The TEF is the brainchild of SLHTA's President Karolin Troubetzkoy.
Mrs. Troubetzkoy says the fund is proud to offer letters of commitment to the four worthy ventures.
"We're very pleased and encouraged by the level of contribution we have seen thus far from our member hotels towards the Fund," Troubetzkoy said, adding that the hotels' interest charts a new direction for private and public sector collaboration within the tourism community.
Providing details on the supported projects Yola St. Jour – Manager for Finance and Administration at the SLHTA, said the Association would be offering a letter of commitment to the Castries Comprehensive Secondary School for the completion of a fully functioning culinary lab.
She said the Fund has also distributed a letter of commitment to the Ministry of Social Transformation for the implementation of after school programs in two depressed communities.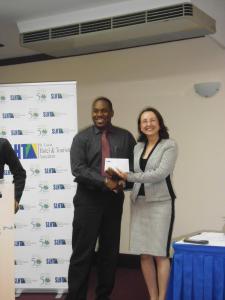 The Saint Lucia Tourist board has also received an US$192,000 commitment for a minimum revenue guarantee towards increased airlift out of the North American market, which is expected to stimulate growth out of that market.
In the meantime, the Association's Director for Large Hotels – Dominic Fedee, said "This significant start is a clear indication of the magnitude of the contribution that can be made when we pull our resources together."
He added, "As this becomes successful it opens the doorway for greater collaboration, especially at a time when the industry is clamoring for a closer relationship between agriculture and tourism. We are very cognizant of the fact that tourism is a catalyst for growth and development of other sectors."
Beneficiaries of the fund expressed gratitude at the conference, citing the contributions as timely and pivotal.