SLHTA's Tourism Enhancement Fund Donates $150,000 To 'Recover Saint Lucia' Initiative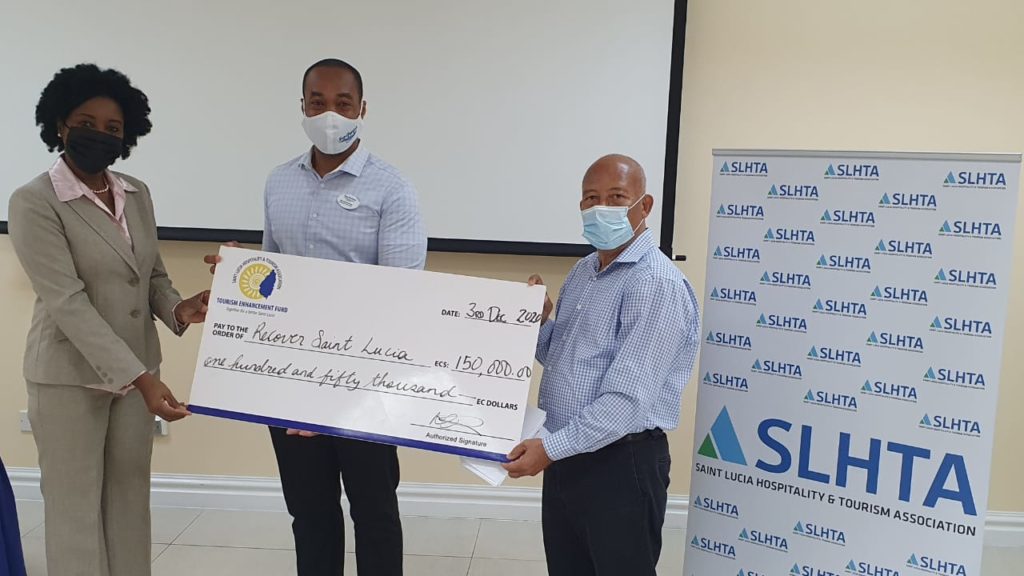 The SLHTA's Tourism Enhancement Fund (TEF) signaled its strong support of the recently-launched Recover Saint Lucia initiative by donating $150,000 towards the new organization's efforts.
A check handover ceremony was held on Thursday, December 3, in the Bay Gardens Hotel Conference Room and was attended by members of the Steering Committee for Recover Saint Lucia, the media and other partners of Recover Saint Lucia.

Chairman of the TEF, Winston Anderson, said any effort to resuscitate the local economy is deserving of support, noting that the tourism sector has a responsibility for and stands to gain from such a recovery.

"Tourism is a very keen player in the recovery of the economy and has been badly affected," Anderson said. "We all know that this industry impacts the lives of so many sectors and the livelihoods of thousands of Saint Lucians, most of whom are yet to restart." Anderson said that during recent TEF meeting, the trustees voted unanimously to support the Recover Saint Lucia initiative. Although Recovery Saint Lucia's mission far exceeds last Thursday's donation, Anderson said every bit helps, urging others in the private sector to join the cause.

Head of Recover Saint Lucia's Resource Mobilization Committee, Sanovnik Destang, said over $400,000 worth of projects have already been identified by his committee since the official launch on November 20, 2020. Nevertheless, he remains optimistic that these goals are reachable.
Private sector agencies and business leaders launched the special national initiative aimed at speeding up the recovery of Saint Lucia's ailing economy by rallying the support of the government and citizens in applying innovative and adaptive responses to overcome the pandemic-induced economic crisis.

Spearheading these efforts are the new organization's key members: Karen Peter (Chairperson), Dr. Stephen King (Health & Best Practice), Goretti Paul (Economic Opportunity), Noorani Azeez (Food Security), Sanovnik Destang (Resource Mobilization), and Adrian Augier (Communications).
"I would like to thank all those businesses who jumped on board without batting an eye," said Recover Saint Lucia's Chairperson, Karen Peter. "They jumped on board without even thinking, case in point, the Tourism Enhancement Fund. I believe that the minute we launched that initiative, within two days I got a call from Noorani Azeez (SLHTA's Chief Executive Officer) that the Tourism Enhancement Fund was willing to put in a seed donation." Jamecob's Quality Construction Ltd. also handed over a check for $5,000 to Recover Saint Lucia's efforts at last Thursday's ceremony.