SLHTA's Tourism Enhancement Fund donates to Kids Insight Project
Gros Islet, Saint Lucia – 20th June 2018 – The SLHTA Tourism Enhancement Fund has donated Ten Thousand dollars towards off setting the cost of surgeries and medical attention for kids struggling with vision problems.  The donation was made to the Kids In Sight program which has been operating in Saint Lucia for the past 15 years. The Kids In Sight is a joint project of the Saint Lucia Blind Welfare Association, the Lions Clubs of Gros Islet and West Virginia Eye Institute.
Each year, the Lion's Club of Gros Islet, through its Charity Golf Tournament, collaborates with other business houses to raise funding to address the vision needs of children.  The West Virginia Eye Institute provides paediatric eye surgeons and specialists who visit Saint Lucia annually to treat kids with sight disabilities who otherwise cannot afford to pay for such medical attention.
This year, the Lion's Club of Gros Islet successfully engage the Tourism Enhancement Fund (TEF) with a view to making a direct donation towards the project.  The President of the Lion's Club of Gros Islet Mr. Lester Charles commented earlier that "This donation helps the Lions Club of Gros Islet to significantly expand its network of partners to increase financial resources to support this and other philanthropic initiatives.  We welcome the support from the Tourism Enhancement Fund and look forward to ensuring that as many kids as possible benefit from the medical attention they so critically need."  Kids in Sight offers a comprehensive approach to paediatric eye problems, including surgical, medical, educational and rehabilitation needs.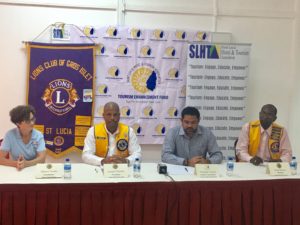 About the TEF:  The Tourism Enhancement Fund (TEF), established on 1st October 2013, is a voluntary fund set up by the Saint Lucia Hotel and Tourism Association Inc. The TEF was proposed by the SLHTA Secretariat as a means of allowing the members of the SLHTA greater control of its own pool of financial resources to allow the SLHTA to play an integral part in the sustainable development of our destination and make greater contributions towards community development initiatives in rural areas and support efforts to preserve our environment and expose other stakeholders to environmentally sustainable tourism practices. The TEF also focuses on education and hands-on training initiatives for our young people to give them a better chance of finding employment in our industry. It also spearheads programs for the workforce to achieve higher standards to be able to strengthen our island's presence in an ever more competitive international tourism marketplace.