SLHTA's TEF Sponsors Goodwill Ambassador Levern Spencer's Tokyo Olympics Journey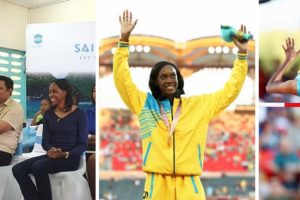 SLHTA's Goodwill Ambassador and 2016 Olympic Games finalist, Levern Spencer, is keen on competing in the 2021 Olympic Games in Tokyo, Japan. Due to the ongoing COVID-19 pandemic, the Games, which were scheduled for 2020, were postponed amid public health safety concerns.
In her quest to represent Saint Lucia at the Games, Spencer will need a considerable amount of sponsorship to offset her expenses related to preparation and participation in the world-class event. The world-ranked high jumper reached out to the SLHTA and, based on the existing relationship the Association shares with Spencer, her request for financial assistance was granted unanimously by the Trustees of the SLHTA's Tourism Enhancement Fund
The SLHTA believes that Spencer's representation at the international level not only showcases the island as a sporting destination, but also a tourism destination worthy of visiting. That was the underlying reason why Spencer was honoured as a Goodwill Ambassador at the SLHTA's Annual General Meeting in August 2019.
In October 2019, fresh from her Pan American Games where she won a gold medal in high jump, Spencer returned home to a hero's welcome at the VIP Lounge at the Hewanorra International Airport. The event was organized by the SLHTA.
The SLHTA will continue to support Spencer, who has been voted Sportswoman of the Year multiple times in Saint Lucia, because she sets a positive example to especially our youth, many of whom have taken up sports based on her inspiration.