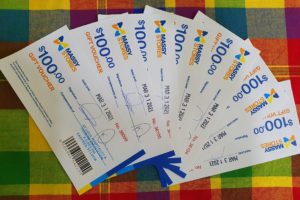 (CASTRIES, Saint Lucia – Tuesday, December 22, 2020) – The SLHTA Tourism Enhancement Fund (TEF) is spreading the Christmas cheer in a big way this season by rewarding its members with much-needed assistance.
Four hundred displaced employees who were severely impacted by the economic fallout of the COVID-19 pandemic will be gifted food vouchers by the TEF. These employees will hale from the non-accommodation enterprises which are still experiencing look warm economic activity.
The generous gesture will cost the TEF approximately $80,000. However, the TEF believes that those who are the driving force of the tourism and hospitality sector deserve every assistance at this crucial juncture.
Within weeks of a partial shutdown in March this year following the COVID-19 outbreak, more than 15,000 employees within the local tourism and hospitality sector were laid off after the partial or total closure of many businesses. Some employees were forced to opt for either rotation or reduced pay. Despite a relaxing of the national shutdown since June and some employees returning to work, many are still off the job and without an income.
On December 3, the TEF made a whopping $150,000. contribution to the Recover Saint Lucia initiative aimed at resuscitating the local economy. During that handover ceremony held at Bay Gardens Hotel, Chairman of the TEF, Winston Anderson, said any effort to resuscitate the local economy deserves every bit of support. He added that the tourism and hospitality sector bears a key responsibility for facilitating such an overall recovery.
"Tourism is a very key player in the recovery of the economy and has been badly affected," he said. "We all know that this industry impacts the lives of so many sectors and the livelihoods of thousands of Saint Lucians, many of whom are yet to restart."